demand reliability...
COMPOSITES MATERIALS
ELECTRIC AND THERMO ISOLATING MATHERIALS
This program coverage technical laminates based on phenol and epoxy resin, paper, cotton, glass and carbon fiber, polyamide, polyetilene polypropylene, polyurethane  polyester and mica.

Parts are made in accordance with your drawings or technical documents !

Delivery is performing in the form of plates, tubes and profiles on required or final dimension.

These special parts are used for the first installation of electrical installations, or as spare parts for the electrical industry. In addition, apply to the periodic repair of electrical systems in the metallurgy, and the generators in hydro and thermal plants.

Specifications comply with standards: DIN 7735.

RANGE INCLUDES :

TECHNICAL LAMINATES
..

Technical laminates are produced in the form of plates, tubes and sticks as follows: Based on phenol resin; Paper - PEPERPHENOL;cotton - TEXTILEPHENOL; On the basis of epoxy resin and glass fibers – EPOXYGLASS: Mica based flexible and rigid materials-MICANITE;On the basis of beech veneer - WATERPROOF SPEER BOARD.

LAMINATES WITH APPLICATION IN ELECTRIC INDUSTRY
... 
... 
This part of the program includes the final parts for electrical Industry made on the basis of PEPERPHENOL, EPOXYGLASS, TEXTILEPHENOL, POLYESTER, and other composite materials:-Insulated pins EPOXYGLASS the grooves of the electrical generator and other parts; -Gears for asynchronous motors, parts for switches.
LAMINATES USED IN BLACK AND NON-FERROUS METALURGY
They are sliding parts of the roller housing, and bearings, couplings and bushings made of TEXTILEPHENOL.
LAMINATES WITH APPLICATION IN RAILWAYS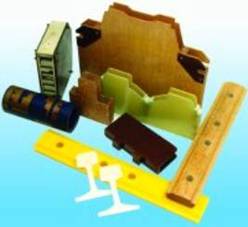 ....
Chamber for extinguishing the electric arc, the rail insulation, contactors, terminal boxes and other parts.

LAMINATES WITH USE IN HYDRAULIC SYSTEMS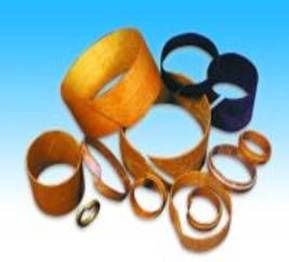 Lead rings for hydraulic cylinders made from TEXTILEPHENOL. 
FINAL PART WITH DIVERS APPLICATION
.....
The final parts made from composite, POLYAMIDE and POLYETHYLENE materials.
All materials possess the appropriate certificate.
________________________________
Steel shots │ Angular steel shots-Grit │ Steel castings │ Composites materials │Copper grit